Top 7 Tech Trends to Look Out For in 2021
In 2020, COVID-19 has changed almost every area in our lives to a great extent. Education, e-commerce, banking, the working environment, offices, jobs, the pandemic has impacted most business verticals. Technology trends are evolving to cater to all these evolving needs of the world.  
 We are going to see more advancement and usage of Robotic Process Automation(RPA), Artificial Intelligence, Data Analysis, Big Data, Blockchain this year. With more and more task forces working remotely, the need for Data Security and Data Privacy is at its apex. It is quite evident that the job market and the skills required from the technical people around the world is also different in 2021. In this article, we have listed the top technological trends and skills to look out for in 2021 for thriving in a technical career. 
AI & Automation
We all are fans of Artificial Intelligence and Automation for a very long time. Definitely, it is not a new term for us, they are already being used by organizations for understanding customer behavior, il decision making, and many other robotic tasks. But how AI and Automation are going to be the highlight of the technology trends in 2021? Let's find out.
AI-driven adaptive e-learning
In 2020, we saw a massive change in the education system in schools, universities, the admission process, and corporate learning. Everything in the education system had to move online and monitored remotely which was a sudden shift.
The next stepping stone is AI-driven adaptive e-learning for children, professionals, and corporate people. Because every learner is different and has different learning capabilities and needs. Therefore, adaptive e-learning focuses on a tailor-made course for every individual based on his capability, learning style, and interest. Hence, it works on targeted content for every user. Also, a digital tutor is mapped with the student for live interactions in real-time. So, this AI-driven adaptive platform works on the whole process level than a single task because it is more intelligent as it assesses the student and then accordingly the content is rendered. Read more about it here.
Robotic Process Automation(RPA)
AI, Machine Learning, and RPA are transforming human tasks more efficiently and effectively. Today, in post-COVID times we can imagine an office culture where human tasks are automated as much as possible. Where, RPA automates the business processes and tasks which are repetitive and mundane.  
RPA works on structured input, data, and logic unlike AI which works on unstructured data. Since, these RPA tools do not have any intelligence of their own, they work in tandem with AI to gain intelligence. 
Examples: Processing transactions, applications, data, and replying to emails.
Digital Transformation of e-commerce
We have witnessed a digital transformation of e-commerce in the past few years.  
We already use Amazon's Alexa and Google Home devices, and enjoy their AI services. AI and Automation have a larger share when it comes to personalized customer experience. They are using customer-specific data to curate tailor-made content and options for each customer.  
During the COVID-19 scenario, e-commerce has reached new heights, because no one wants to step out of their home. We all want safe, secure and contactless delivery at our doorstep. This has opened the floodgates of innovation in e-commerce for AI and Automation. Increased use of chatbots and automated customer service are a few examples.  
New technology trends also help in automated inventory management, voice search options, recognizing fake reviews, etc. 
Now we have seen three major areas where AI and Automation will have a clear influence. With this rising trend of AI and Automation, experts foresee an increase in demand for skills such as- DevOps, ModelOps, and DataOps. 
DevOps focuses on shortening the software development cycle by integrating development and operations together. It is based on CI/CD principles which leverage the power of many automation tools. You may read the top DevOps interview questions for 2021 here. 
ModelOps focuses on the analytics lifecycle by providing smooth development and deployment of analytic models. It works on the principles of DevOps but does not involve software lifecycle. It involves the collaboration of the IT operation team and analytics team for developing efficient, high- performance, and accurate analytic models and their deployment. Read more here. 
DataOps works on the principles of DevOps and ModelOps and by operationalizing analytics. It uses data security, data privacy, data quality, and integration to operationalize analytics. DataOps is applied to the whole data life cycle by integrating IT operations and data analytics.
Examples of AI and Automation which are helping us currently, in fighting COVID-19:
Disease surveillance using thermal scanning, tracking the movement of individuals, etc.

 

Facial recognition to check the mask is properly covering the mouth and nose.

 

Disinfection of surfaces like furniture, rooms, etc. using Robotics, AI, and IoT without human contact and intervention.

 

Verification of fake news and information

 on social media, which may cause 

disruption

 in society.

 
 Jobs and skills related to AI and Automation 
AI and Automation is going to boom in 2021 and below are some jobs which will be commonly in demand by technology companies. If you are looking for a career change or enhancement in AI and Automation then these suggestions may be helpful to you.
Data Analyst
Skills required:
MS Excel

 

SQL

 

R or Python statistical programming

 

Machine Learning

 

Data Visualisation- Tableau, Power BI

 
AI and Machine Learning Specialist
Skills required:
Robotics

 

Machine Learning

 

Cognitive science

 

Mathematical models

 
Big Data Engineer
Skills required: 
Machine Learning

 

Database- MySQL,PL/SQL

 

 NoSQL - MongoDB, Cassandra, etc.

 

ETL tools- Informatica

 

Apache Spark

 

HIVE

 

Cloud computing

 
Data Privacy and Data Security
Data Privacy: It defines how data collecting organisations and individuals are collecting, storing, handling, and distributing the data. Examples of private data are health data, personal identification numbers, etc.
Data Security: It defines how organisational and individual data is secured from potential cyber attacks. 

Why is Data Privacy and Data Security important? 
To protect the organisation or individuals from data breaches.

 

It supports compliance with legal data protection rules and regulations.

 

Organisations gain customers' trust and brand value.

 

Illegal data breaches and security threats may result in huge financial losses.

 
Why is it more important today? 
In the current scenario, where the majority of us are working from home, data security and privacy is a big concern for organisations. Also, because the workforce are working remotely, organisations are implementing time and productivity tracking applications on the employee's system. Here, the organisations need to be concerned only about tracking the productivity and vulnerability of data. They should keep in mind that these applications are safe enough and that the privacy of their employees is not hampered.
Currently, we are sharing data related to location, contact tracing, and medical records with health providers and the government. If it falls in the hands of perpetrators of cyber crime, it is a threat for everyone on a larger scale. Due to these reasons, Data Privacy and Data Security are of utmost importance today. 
This clearly results in more jobs in the Data Privacy/ Security sector. Let us have a look at the most popular job roles and required skills in the same.  
Network Security Engineer
Skills required:
LAN/ WAN/ VPN

 

Firewall, SIEM

 

UNIX, Windows

 

Cisco and Fortinet

 

Maintaining Server and Switches

 
 In-demand certifications related to this role: 
CCNA- 

Cisco Certified Network Associate

 

CISSP- 

Certified Information Systems Security Professional

 

Cisco CCIE Security
Security Architect 
Risk assessment

 

Requirement gathering for routers, WAN/ LAN, Firewalls

 

Digital Signatures and Certification Authorities

 

Certify installations of servers, routers, etc.

 

Owner of organisational security policies
In-demand certifications related to this role:   
CISSP-

Certified Information Systems Security Professional

 

SABSA- Sherwood Applied Business Security Architecture
Cyber Security Specialist 
SIEM(Security Information and Event Management) tools 

 

Compliance- 

FISMA, ISO 27001, and 20000, PCI DSS, GDPR, etc.

 

 Intrusion Detection Systems (IDS)

 

Intrusion Prevention Systems (IPS) 

 

Digital Forensics

 
 In-demand certifications related to this role:   
Cisco Certified Network Associate – Routing and Switching (CCNA)

 

Cisco Certified Network Associate – Security (

CCNA-Security

)

 

Microsoft Technology Associate (MTA) – Windows Server Administration Fundamentals

 
Blockchain 
Blockchain works on a peer-to-peer and decentralized architecture. Therefore, the transactions are fast and the size of the network is independent of any geographical barrier. 
The most common example of Blockchain is cryptocurrency like Bitcoin and Ethereum as we all know.  These currencies are a type of electronic money, and therefore this may have utility as the other form of money has. Example loans, investments, trading,  ETF(Exchange Traded Funds). 
Why is Blockchain required? 
Blockchain instills trust in the data, transactions, processes, and logic of the software. It's capability to process large transactions with the ability to verify is its main advantage. Therefore, it provides opportunities to create innovative applications which have decentralised computing and giant transaction processing as its core values. Additionally, it is open-source and the users keep adding to its value. 
Today, Covid-19 has caused the acceleration of blockchain as an experimental project in most businesses to seriously consider it as part of their business strategy. Therefore, health care, Information Technology, real estate, e-commerce, telecommunications, and BFSI industries are expected to see an exponential growth in 2021. Also, we will be using blockchain for digital payments and digital identities from this year. During Covid-19, we have also witnessed an increase in businesses who were previously present with existence only as physical stores. Hence, now they have had to adopt digital presence, often for survival, not by choice. 
Also, in larger corporations, blockchain technology is deemed to be a preferred choice when moving towards digital transformation. Additionally, now we see that the big corporates are adopting Blockchain at an accelerated rate. Reason being, the nature of blockchain, i.e. secured, trust, transparent, connected into chain, and transactions are recorded. 
Therefore, Blockchain is one of the technology trends that has gained traction in the last year and will continue to do so in 2021. Mentioned below are the areas which are expected to see growth in this year: 
Blockchain Cryptocurrencies:

 It will reach a new boom due to the digital transformation taking place currently.

 

Corporate organisations

: They will embrace Blockchain to fulfill their digital transformation at a faster rate.

 

Privacy and Security

: To provide better customisation, security, privacy and to fulfill specific business needs 'Private or Permissioned Blockchain will emerge as a market leader.

 

Banking sector

: It will start using Blockchain to provide faster, contact-less, and secure transactions. The financial sector is going to be the greater adopter of Blockchain technology due to its advantages.

 

Health care: 

It is going to see a remarkable use of Blockchain. Health care industry

 

will use it to store and verify the patient's health records.

 

Media and entertainment: 

This

 

industry has usage in copyrights management, providing payments.

 

Communications industry: 

Telecommunications may use it for Call Detail Records, Mobile wallets, and Network Access Control.

 

Insurance sector:

 They may use Blockchain for customer onboarding, insurance processing, and fraud detection.

 

Manufacturing industry: 

They may use it for documentation, inventory management, and product tracking.

 
However, this means that the government rules and regulations regarding cryptocurrencies will be more stringent in the coming years. Also, this rise in the use of blockchain will mark an increase in related frauds. 
Let's have a look at the job roles and skills required in Blockchain technology in 2021. 
Blockchain Developer 
Skills required: 
Open-source projects

 

Data structures, Algorithms

 

C++, Java, JavaScript

 

Cryptography

 

Peer-to-peer network

 

Smart contracts

 
Blockchain Architect 
Skills required:
Blockchain architecture- Digital Assets 

 

Blockchain environment- Cloud, Native

 

Platforms- Public, Commercial

 

Developing nodes

 

Smart Contract Development

 

C++, Java, JavaScript, Python

 
Blockchain Quality Engineer 
Skills required:
Quality Analysis

 

Reporting

 

Blockchain concepts

 
Internet of Behaviours (IoB)
The Internet of Things (IoT), as a technology, has been in trend for the past five years or more. The total number of IoT devices has doubled in the same duration. Ideally, these devices collect data and in enormous amounts, which helps predict actions and user interactions. The data collected from IoT devices help assess the past interactions of a user in an attempt to predict future possibilities.
An extension of this concept is Internet of Behaviour (IoB). Where IoT refers to the interconnection or the interconnectivity between devices, the Internet of Behaviour digs deeper, attaching the extracted data to one's behavior. Meaning that IoB aims at making sense of the data gathered from IoT devices and linking it to human behaviour. IoB is, in a sense, the combination of two technologies (data analytics and behavioural science). From facial recognition to location data, everything can be mapped to predict customer behaviour. 
Statistics in favour:
Gartner, in its strategic predictions of 2020, stated that the Internet of Behavior would soon become the new normal, and hence, we all must not only be aware of it but also, adapt to it for the greater good. 
According to them, by the end of 2023, marketers will track activities of nearly 40% of the population online in an attempt to influence one's behavior. This apparently would lead to massive growth, disrupting human's online presence.  
The question that arises here is why has suddenly IoB become one of the top technology trendsof 2021?
IoB is a broad concept (one of the biggest technology trends) that strives to analyze user data, understand the interactions, and then use this knowledge to refine business strategies. It brings into account the behavioural psychology of a user when interacting with a device, further leveraging it to customize their products and/or services. 
That is to say, the Internet of Behaviour is a people-oriented approach to implement IoT. Capturing digital data, IoB turns information to knowledge in an attempt to refine business strategies. For example, government organizations can leverage IoB through thermal imaging, tracing out people who have a high fever. This will help them isolate them from the rest. Similarly, e-commerce leaders have the opportunity to connect data from different behavioural events and use it to predict user behaviour. This helps boost sales and increase revenue.   
Unlike the traditional methods of marketing that are static by nature, the internet of behaviour evolves dynamically. IoB intends to boost the sales performance of an organization but in a sophisticated and organized way. This opens a new frontier for business organizations allowing them to make sense of their data, to actually understand how users interact, and then put this information to fine-tune their marketing strategies.  
In other words, IoB emerges to be a powerful weapon, which, if used effectively, can help enterprises grow exponentially.   
Type of skills/expertise required for such knowledge. 
If you are planning to dig deeper into the subject and gain knowledge for practical implementation, you must be extremely good at data collection and possess high-end data analytical skills. For instance, skills in Big Data, Machine Learning and Data Analytics will allow you to pursue your career which involves Internet of Behaviour.  
Payment
COVID-19 has disrupted business operations on a massive scale.
Long gone are the days when transactions were done over the counter. The need to practice social distancing forced organizations to take their business to the online world. In fact, contactless payments are now the primary and preferred mode of payment.  
It is, but surprising, to see how the world is adapting to this change. Survey results by Statista hint at the increasing amounts of online transactions. It is expected that the total value of transactions done via digital portals would reach $6,685,102 million by 2021. This in itself is sufficient enough to project the growing trend of contactless payments. 
Why are Digital Transactions in trend? 
Digital wallets allow users to release payments as and when they want. Besides, it eliminates the need to physically connect with the customers. Not to forget the fact that online transactions are both cost-effective and time-saving.  
For businesses that have been serving the industry for a long time, it's time to re-engineer their payment system and adapt to the dynamically growing technology.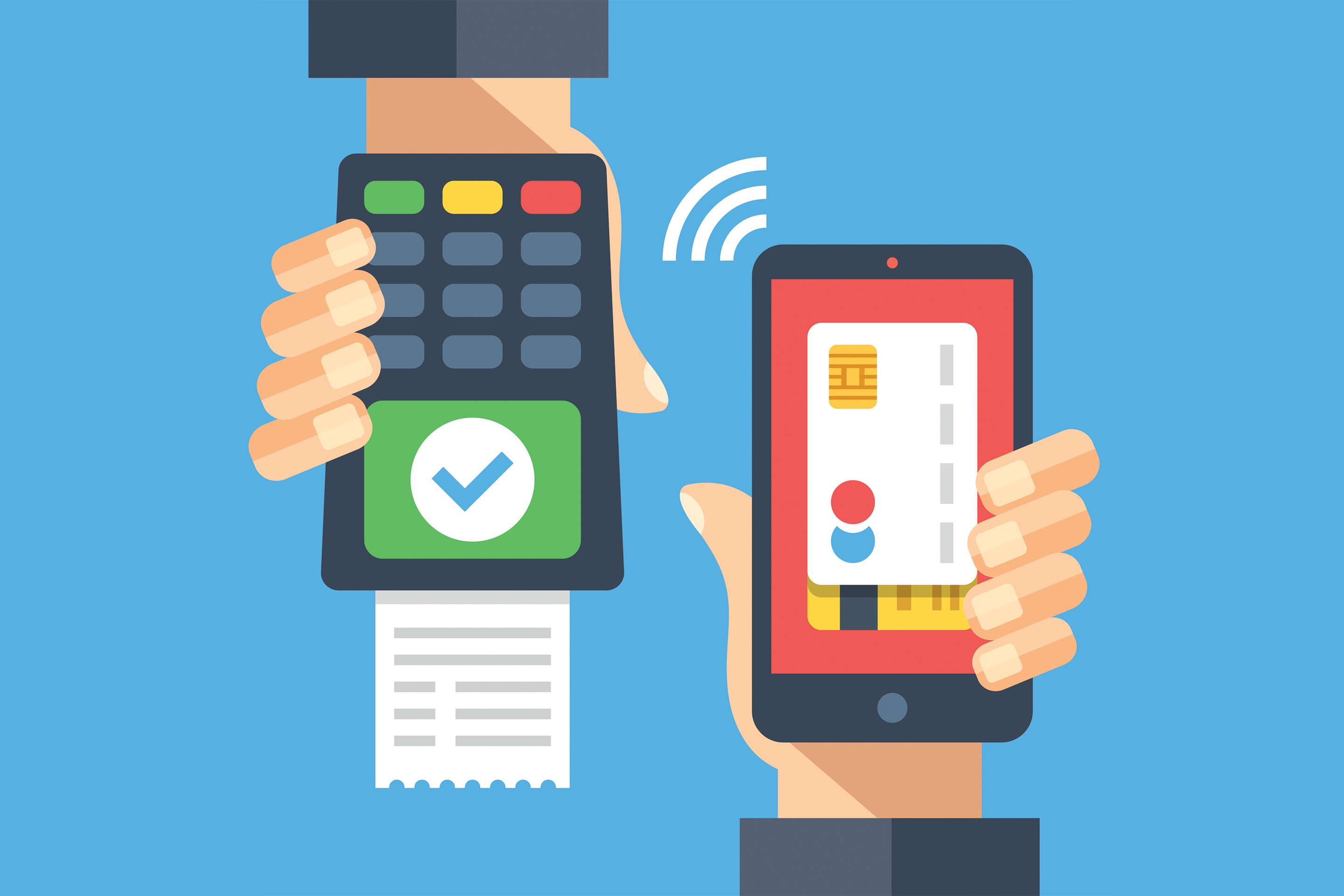 The most common form/channel for contactless payment includes: 
Payment through mobile apps

 
On-demand payment portals such as Apple Pay and Google Pay facilitates a hassle-free payment system. Designed as an online payment system or a digital wallet, these apps allow customers and/or users to make payments quickly and swiftly. The tap-to-pay feature present further simplifies the entire process of making online payments. What's best about payment apps is their flexibility. Meaning that you can make payments either in-person, over the web, or while making purchases in a store.  
The pandemic crisis has not only paved the way for digital payments but also digital currency. Cryptocurrencies are digital assets that leverage encryption algorithms to facilitate payments and online transactions. Irrespective of whether you are in a retail store, an agency, or buying food, cryptocurrencies have become the new normal. 
Bitcoin, the most popular cryptocurrency, is at its all time high count. While the concept was initially an alternative to gold, the outbreak of the virus, and the need to transact virtually turbocharged the usage of the currency. 
Bitcoin works on peer-to-peer technology, one that is extremely secured and protected. Unlike other payment methods, Bitcoin doesn't have any middlemen and is directly done through the network. While Bitcoin is one of the widely used cryptocurrencies, it isn't the only one. There are many others in the industry, all designed to transform the idea of digital payments. 
The fact that crypto payments are cheaper, quicker, and secured, both merchants and customers are transitioning to the same. According to research, the value of the cryptocurrency market would cross USD 1.40 billion by the end of 2024 and the expected CAGR is 6.18%. 
Type of skills/expertise requires for such industry
To design custom-fit payment applications for businesses or enter the fintech industry, you need to excel in mobile app development skills. In addition to the above, online payment services leverage technologies such as blockchain, cryptocurrency, and cybersecurity. Hence, the need to gain significant skills in each of the above acts as an onus.  
Ecommerce
Considering the limitations on travel, total lockdown, and store closures, it isn't wrong to state that the year of 2020 has been hard for the retailers. Existence turned impossible and the only way to survive the crisis was through the online platform. From the big fat successful brands to the small scale offline stores, the retail industry underwent a massive shift in the name of workforce digitization.
Departmental stores remained non-functional for months which forced users to resort to the online store. Initially, e-commerce stores were an alternative to offline stores. However, because of the need to practice social distancing and avoid mass gatherings, consumers preferred buying goods online. This triggered a shift from physical to online stores accounting for the growth of e-commerce. 
Besides the wealth of features offered by the channel adds to its widespread adoption. For one, e-commerce websites are mobile compatible giving customers the ease to purchase as and when they want.
Another reason why e-commerce is booming is personalization. E-commerce websites and mobile applications make use of advanced technologies such as AI and ML to embed personalization. This improves the end to the end buying experience, and in a way leaves behind satisfied customers. 
Typical in-demand tech skills for such an industry:
E-commerce applications are of various kinds, depending on the type of products you sell (physical, digital, etc). At the basic level, you must possess development skills. 
In addition to this, the knowledge of technologies such as artificial intelligence, machine learning, etc helps add advanced features. In a time when personalization is the key to exceptional customer experience, businesses seek solutions that help them offer customized services.  Considering the same, we expect a sharp rise in the demand for AI and ML experts for e-commerce.  
Modern-day websites have virtual agents in the form of AI Chatbots that assist and guide the buyers. Stock management is one of the most important activities. Someone who isn't aware of the technicalities of maintaining a database, updating and modifying it, fails to bridge the supply-demand gap. This is why database management is considered as an important skill when it comes to running e-commerce business applications. 
Digital-first
Digitization has been the topic of interest even before the pandemic crisis hit the world. Yet, not all organizations considered it a priority.  
With the impending crisis, the situation changed and today, nearly every business has an online presence (even the ones who were not thinking of digital transformation). Mass showdown of offices and employee cut-off mandated to work from home or in a way go remote. It wouldn't be wrong to state that digitalization turned out to be the only solution. That is to say, digitization helped organizations sustain the competition and thrive in times of uncertainties.  
 A major change here is the migration from traditional infrastructure to the cloud ecosystem. From private to public and hybrid cloud, workload shifts are at an all-time high. It is expected that the public cloud will grow to 30%. Embracing digital infrastructure is the key to the agility and overall responsiveness of a business. For organizations that have been resilient in their approach are now better positioned as compared to the ones that hesitated in the same.  
What this means is going digital is now a necessity and not a choice. The coming times will be tough for organizations that fail to demonstrate tangible IT operations. The digital future is now and businesses need to respond and react protectively.  
In-demand key skills 
Cloud migration is the key to digitization. For organizations who plan to move their traditional infrastructure to the cloud, one must have in-depth knowledge about the migration of data as well as applications to the cloud. In addition to the above, you must explore services such as automation, CRM, etc.  
It is not just the growth in technology that drives the future but also the manner and the pace in which businesses adopt the same. 2020 has been the year of introspection, recognition, and realization. Organizations are now considering ways to adapt to the technology trends and modify their business operations to gain agility. And this is what leads to demands and skills gaps.  
The top jobs that are in demand include data scientists, software engineers, full-stack developers, market researchers, and media marketing. If you are looking to be a part of the change or to be the changemaker, now is the time to step out and showcase your skills.  
We believe this article has enough information to help you decide which area best suits your needs. Hone your skills and make a difference because the times are tough and competition is fierce.  

Backend Technology Interview Questions
C Programming Language Interview Questions | PHP Interview Questions | .NET Core Interview Questions | NumPy Interview Questions | API Interview Questions | FastAPI Python Web Framework | Java Exception Handling Interview Questions | OOPs Interview Questions and Answers | Java Collections Interview Questions | System Design Interview Questions | Data Structure Concepts | Node.js Interview Questions | Django Interview Questions | React Interview Questions | Microservices Interview Questions | Key Backend Development Skills | Data Science Interview Questions | Python Interview Questions | Java Spring Framework Interview Questions | Spring Boot Interview Questions.
Frontend Technology Interview Questions
HTML Interview Questions | Angular Interview Questions | JavaScript Interview Questions | CSS Interview Questions.
Database Interview Questions
SQL Interview Questions | PostgreSQL Interview Questions | MongoDB Interview Questions | MySQL Interview Questions | DBMS Interview Questions.
Cloud Interview Questions
AWS Lambda Interview Questions | Azure Interview Questions | Cloud Computing Interview Questions | AWS Interview Questions.
Quality Assurance Interview Questions
Moving from Manual Testing to Automated Testing | Selenium Interview Questions | Automation Testing Interview Questions.
DevOps and Cyber Security Interview Questions
DevOps Interview Questions | How to Prevent Cyber Security Attacks | Guide to Ethical Hacking | Network Security Interview Questions.
Design Product Interview Questions
Product Manager Interview Questions | UX Designer Interview Questions.
Interview Preparation Tips
Strength and Weakness Interview Questions | I Accepted a Job Offer But Got Another Interview | Preparation Tips For the Virtual Technical Interview | 7 Tips to Improve Your GitHub Profile to Land a Job | Software Engineer Career Opportunities in Singapore | What can you expect during a whiteboard interview | How To Write A Resignation Letter | Recommendation Letter Templates and Tips.
Quick Links
Practice Skills | Best Tech Recruitment Agency in Singapore, India | Graduate Hiring | HackerTrail Litmus | Scout - Sourcing Top Tech Talent in ONE Minute | About HackerTrail | Careers | Job Openings.